Treatments
Remedial Massage
Remedial Massage aims to identify and treat the cause of a problem and not just the symptoms. It works on the manipulation of the deeper layers of muscles and connective tissues using a variety of techniques including exercise therapy and advice. Remedial Massage is especially effective for treating chronic and tense areas such as stiff necks, tense shoulders and lower back tightness. All treatments are tailored specific to the individual, working to treat and prevent the recurrence of proble

ms.
Sports Massage
Sports Massage uses similar techniques to Remedial Massage and is typically used pre, during or post athletic events. The massage aims to help athletes avoid injuries, cool down after exertion and improve their overall performance. Sports Massage is part of many people's training plans.
Thai Massage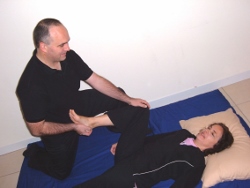 Thai Massage uses gentle, deep stretches and compressions along with acupressur

e and reflexology
 techniques resulting in a full body treatment. The treatment improves flexibility, circulation and relieves stress and muscular tension. It is effective at treating a range of musculoskeletal problems including back, neck, shoulder, hip and leg pain. It is also used for treating sports related injuries and aiding effective recovery and protection from further injury.
Thai Massage is traditionally carried out on a futon mat on the floor with the client and 

practitioner 
wearing loose, comfortable clothing allowing flexibility and free movement.